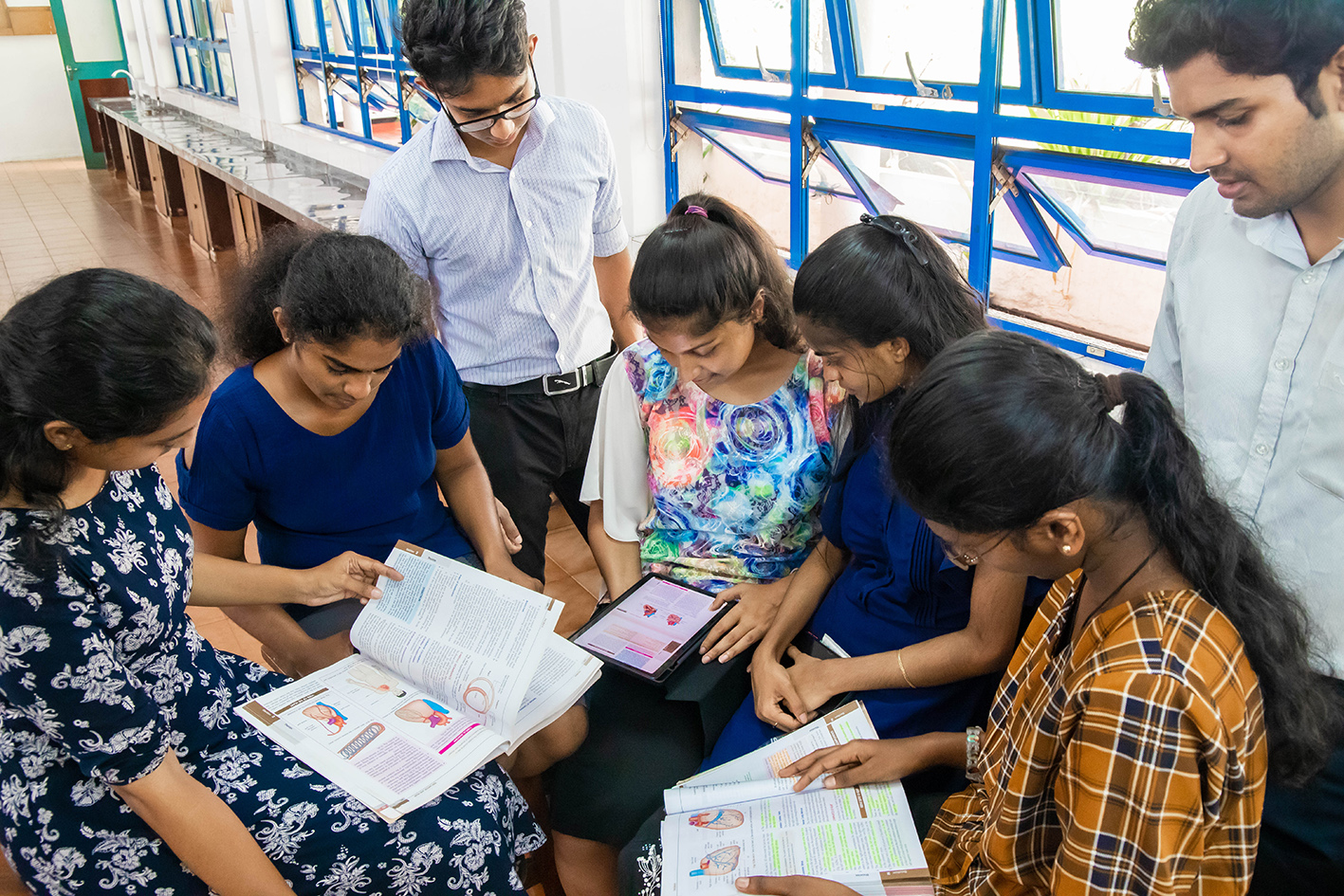 The duration of the BDS degree course is five years. The curriculum delivery is synchronized, system-based and is divided into three phases: Phase I (Preclinical), Phase II (Paraclinical) and Phase III (Clinical). Phase I comprises four main subjects, teaching the normal structure and function of the human body. The Personal and Professional Development (PPD) Stream commences in Phase I and runs throughout the course.
Phase II consists para-clinical subjects where students learn the various diseases affecting the human body and the related abnormal bodily structure and function in each condition. They also learn Community Dentistry and Dental Materials during this phase.
Phase III comprises the final part I & II during which the clinical Dentistry is learned. Clinical teaching and skill development would take place at the National Dental Teaching Hospital Sri Lanka, Colombo South Teaching Hospital and Base Hospital Homagama. During part I they will learn and develop skills in 8 main subject areas in Dentistry. During the last year a comprehensive advanced patient management with familiarization of treatment protocols would take place.
OVERVIEW OF THE BDS STUDY PROGRAMME
Each academic year consists of three terms, and each term is 10 weeks in duration. Phase I consist of 5 terms, Phase II, 3 terms and the Phase III, 6 terms.

Organization of Academic Content
Phase I (Basic Sciences)
Phase I begins with the orientation programme and then spans over 5 terms. Students will learn Anatomy, Biochemistry, Dental Anatomy & Oral Physiology and Physiology during this phase and will learn integration of these into clinical situation. The PPD stream also commences in Phase I.
Orientation Programme
The orientation programme is conducted in the first 2 weeks prior to the commencement of the first term. The main aim of the programme is to guide the students to become self-directed learners and to improve their language, communication and information technology (IT) skills. Well-structured language and IT modules are conducted at the purpose built, state-of-the-art, Language and IT Laboratories in the Resource Centre of the Faculty of Medical Sciences.
The students will be assessed on English language Competency in reading, writing, speaking and listening skills in English at the end of First Examination for BDS. The students should pass this English Language Competency Test to obtain the degree certificate. Students who fail to obtain pass marks in the first attempt can sit the examination with the subsequent batches.
Special lectures are conducted to promote student awareness on rules and regulations of the University, mission and objectives of the Faculty, Dental curriculum, library facilities and access, student welfare facilities, sports and recreational activities as well as student societies.
PPD activities are also incorporated in the orientation programme. In addition, special sessions on coping strategies, time management, and relaxation techniques are included to empower students to cope with the stresses of campus life.
Academic activities begin soon after completion of the orientation programme with delivery of the "Commencement Lecture" by an invited speaker.
Clinical Skills during the 1st year
Acquiring clinical and manual dexterities will commence from the first year. During Phase I this will be achieved through sessions in the skills laboratory and a few hospital visits to Dental Consultant units. Introduction to subjects will take place with the participation of a clinician, highlighting the clinical relevance to basic sciences.
Before the commencement of Phase II and clinical appointments there will be lectures by the Phase II and Phase III coordinators regarding the curriculum and assessments. In addition, there will be some lectures on PPD on social etiquette and gender-based violence.
Phase II (Paraclinical Sciences)
Phase II spans over 3 terms and during Phase II, students will concentrate on para-clinical subjects like Pharmacology & General Medicine, General Surgery & General Pathology, Microbiology, Dental Materials together with Community Dentistry. They will have a basic knowledge in General Medicine & Surgery in managing their routine patients & also be competent in managing the medical emergencies in Dental practice. They will have clinical sessions at a teaching hospital (Colombo South Teaching Hospital) as afternoon sessions and Basic Dental skills training at the skills laboratory.
Personal and Professional Development (PPD) Stream
The Personal and Professional Development Stream focuses on strengthening Dental professionalism to facilitate better health-care delivery in the country. The stream continues throughout the dental curriculum and is taught in the form of "themes" relevant to each topic, such as communication, counselling, teamwork, leadership, including principles of empathy & sympathy. In addition, familiarization with Dental clinical settings, visits to Hospital Specialist Units and OPD clinics and Basic skills development in the skills & Dental Technology Laboratories are arranged
Phase III (Clinical Training in Dentistry)
Phase III spans over 6 terms. Clinical skills in Dental problem listing, diagnosis and treatment planning in different disciplines will start in phase III and continue throughout the phase.
Clinical training involves rotational appointments in Oral Surgery, Oral pathology, Oral Medicine, Restorative Dentistry, Prosthodontics, Periodontology, Pedodontics, and Orthodontics in the relevant clinical departments during Phase III Part I. During Phase III Part II students are trained in Comprehensive care, Geriatric Dentistry & Maxillo-Facial Surgery. During Phase III the main emphasis will be on clinical training, which will be complemented by hands on, skills development tutorials and lectures relevant to clinical Dentistry.
Clinical Rotations during Final part I in Phase III